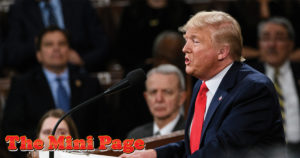 AMP | Kids is proud to partner with The Mini Page, celebrating over 50 years of providing engaging and fun learning opportunities to young readers across the country. This feature was originally syndicated in newspapers the week of August 22 – August 28, 2020. It is distributed digitally here with permission from Andrews McMeel Syndication. Enjoy and share with the young learners in your life!
Did you watch any of the Democratic National Convention last week? This week, Republicans are gathering in Charlotte, North Carolina, from Aug. 21-24. A planned celebration in Jacksonville, Florida, was canceled in late July because of concerns about COVID-19.
Let's learn more about the Republicans' plans.
Coming together
A political party (a group of people who have similar ideas about how our country should be run) holds a national meeting, called a convention, before a presidential election. At that meeting, representatives from each state, called delegates, announce which candidate they have chosen to run for president.
The candidate also may announce his or her choice for a running mate, who would become vice president if they are elected.
At the convention, members of the party also discuss the party's platform, or its ideas and goals about different issues facing the country.
The Republicans plan to hold party meetings and formally nominate President Donald J. Trump in Charlotte. Much of the party's business and activities may happen online, including events to celebrate President Trump's nomination.
Who's running?
President Trump is running for a second term as the leader of our country. Vice President Mike Pence is his running mate.
When a president competes for a second term, he is called an incumbent. According to the U.S. Constitution, presidents can serve for only two terms of four years each. If President Trump should win a second term, it will be his last as president.
About Charlotte
Charlotte is home to about 1 million people. It's the largest city in North Carolina.
Before settlement by Europeans, members of the Catawba tribe lived in the area. The city is nicknamed the Queen City after a German princess, Charlotte of Mecklenburg-Strelitz.
Many banks are headquartered in Charlotte, along with other large companies and NASCAR.
Republican roots
In 1854, the modern Republican Party was founded in the northern states by people who were against slavery. (The Democratic Party was formed in the early 1830s.)
The first Republican convention was held in Philadelphia in June 1856. About 600 delegates attended the meeting, and about 100 newspaper reporters covered the events there.
The party nominated John C. Fremont, a U.S. senator from California, for president.
Republican delegates
How many does your state have?
Alabama 50
Alaska 29
American Samoa 9
Arizona 57
Arkansas 40
California 172
Colorado 37
Connecticut 28
Delaware 16
District of Columbia 19
Florida 122
Georgia 76
Guam 9
Hawaii 19
Idaho 32
Illinois 67
Indiana 58
Iowa 40
Kansas 39
Kentucky 46
Louisiana 46
Maine 22
Maryland 38
Massachusetts 41
Michigan 73
Minnesota 39
Mississippi 40
Missouri 54
Montana 27
Nebraska 36
Nevada 25
New Hampshire 22
New Jersey 49
New Mexico 22
New York 94
North Carolina 71
North Dakota 29
Northern Mariana Islands 9
Ohio 82
Oklahoma 43
Oregon 28
Pennsylvania 88
Puerto Rico 23
Rhode Island 19
South Carolina 50
South Dakota 29
Tennessee 58
Texas 155
Utah 40
Vermont 17
Virginia 48
Virgin Islands 9
Washington 43
West Virginia 35
Wisconsin 52
Wyoming 29
TOTAL = 2,550
Resources:
On the Web:
National Park Service – Women's History
At the Library:
The Woman's Hour: Our Fight for the Right to Vote by Elaine Weiss
For Teachers: 
For standards-based activities to accompany this feature, visit Andrews McMeel Syndication. And follow The Mini Page on Facebook!