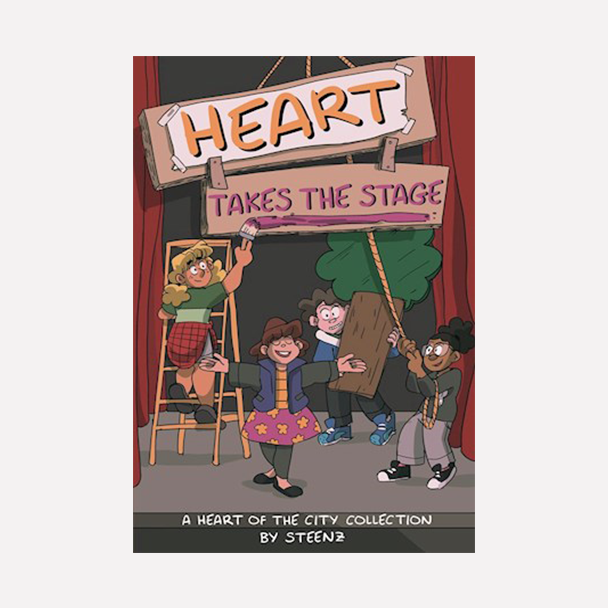 Heart Takes the Stage
A Heart of the City Collection
By Steenz
Age Range: 10 and up
Pages: 208
Type: Paperback
Publication Date: May 3, 2022
ISBN: 9781524871598
"Warm, funny, and a visual delight, Steenz's take on Heart of the City is next-level."  –Dana Simpson, Phoebe and Her Unicorn
This first book collection of Heart of the City comics by the strip's new creator, Steenz, is packed with outstanding art, a diverse cast of characters, and engaging, positive storylines about friendship, pop culture, ghost stories, and a wide range of real-world issues.
Heart Lamarr is a girl with big dreams who lives in Philadelphia with her single mom. She has her sights set on a life of theater, but she runs into plenty of drama off-stage, too. Luckily, her best friends Dean, Kat, and Charlotte form a stellar supporting cast to help Heart navigate the challenging world of school plays, cliques, rumors, and everything else middle school throws at them.
About The Author
Christina Stewart, known as Steenz, is a St. Louis-based cartoonist, editor, and professor. They are the cartoonist on the Ringo Award-nominated syndicated comic strip Heart Of The City, the co-creator of Dwayne McDuffie Award-winning graphic novel Archival Quality (Oni Press), and are featured in short story anthologies such as Eisner and Ignatz Award-winning ELEMENTS: Fire, Mine!, and Dead Beats. Steenz launched and edited the popular RPG periodical Rolled & Told. They participate in and create community-building comics-related programming, and are a frequent panelist at comic cons. Steenz currently teaches cartooning at Webster University while editing titles from independent publishers. They live with their husband, two cats, and watch a lot of esoteric social documentaries.
want more reading activities for kids?
Sign up to receive email updates from AMP Kids