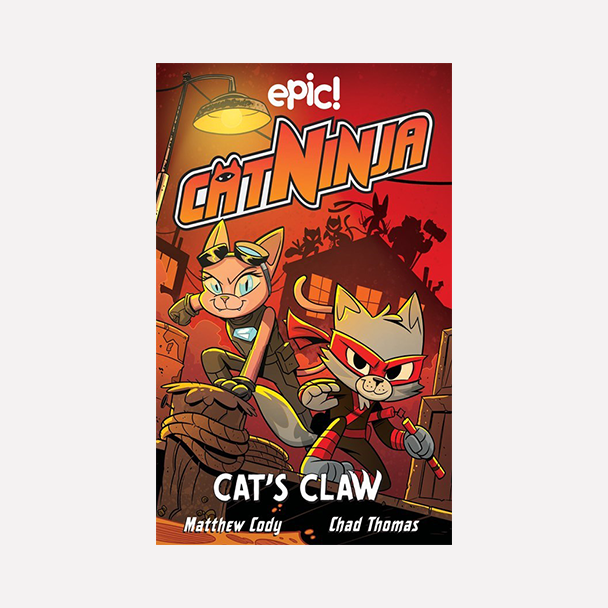 Cat Ninja: Cat's Claw
By Matthew Cody, Jadzia Axelrod, Dan Nordskog, Kurtis Scaletta, Chris Schweizer, Chad Thomas, Brett Bean, Eduardo Medeiros
Age Range: 10 and up
Pages: 160
Type: Paperback/Paper Over Board
Publication Date: October 10, 2023
ISBN: 9781524882280/9781524882303
Cat Ninja is back in an adventure-packed volume featuring new friends, old foes, and the Cat Lady who started it all!
When a notorious band of ninjas discovers a certain Metro City hero wearing their colors and practicing their Kat Fu, their leader sets out to settle an old score. Plus, a nocturnal ninja flaps into town, Octopunch puts up his dukes (all eight of 'em!), Adonis plays hero, Master Hamster's creative kitchen repairs end with a scorching surprise, and our favorite frenemies-against-the-odds compete in the villainous Vroomin' Race!
About The Author
Matthew Cody is the author of several popular books, including the award-winning Supers of Noble's Green trilogy: Powerless, Super, and Villainous. He is also the author of Will in Scarlet and The Dead Gentleman, as well as the graphic novels Zatanna and the House of Secrets from DC Comics and The Bright Family from Epic/Andrews McMeel. He lives in Manhattan, New York, with his wife and son.
Jadzia Axelrod is an award-winning author, illustrator, activist, gadabout, and circus performer. She is the author of comics and graphic novels for Tor, Quirk Books, and DC Comics. She lives in Philadelphia where she cooks overly elaborate meals for her wonderful wife and delightful child.
Dan Nordskog is a graphic designer and writer who has worked on the Cat Ninja and Animal Rescue Friends series for Epic/Andrews McMeel. He also co-created the popular graphic novel and series According to Aggie for American Girl Publishing. He discovered comics as a kid and has loved them ever since. He lives in Wisconsin with his wife and son.
Kurtis Scaletta has written books about sports, snakes, giant fungi, robots, bees, and video games (among other things). He lives in Minneapolis with his wife, son, and several cats.
Chris Schweizer is a cartoonist and toymaker who lives in the western coal fields of Kentucky. He's been nominated for three Eisner Awards. He was a kickboxer when he was young, but he never would have won a fight against Octopunch.
Chad Thomas is an illustrator and cartoonist living with his family in McKinney, Texas. He's worked on books such as TMNT, Star Wars Adventures, and Mega Man and also illustrates activity and educational titles. He loves his family, comic books, and Star Wars and will let his children beat him in checkers, but never in Mario Kart.
Brett Bean is the author-illustrator of the graphic novel series Zoo Patrol Squad with Penguin Workshop, and the illustrator of Rocket & Groot (Marvel), Battle Bugs (Scholastic), and Beasts of Olympus (Workshop). Brett also works in film, TV, video games, and board games, and has worked with Disney Activision, Jim Henson's Creature Shop, and others. He lives in Portugal with a bunch of redheads.
Eduardo Medeiros is a comic book author and artist from Brazil. He has several books published in Brazil and the United States, including Mondo Urbano (Devir/OniPress), Sopa de Salsicha (Cia das Letras), Strange Tales (Marvel), Gotham Academy (DC Comics), Open Bar (Panini Books/OniPress), Joker 80th (DC comics) and Funny Creek (ComiXology). He has a lovely two-year-old son named Gabriel, four cats, and four dogs. He loves to eat sandwiches.
want more reading activities for kids?
Sign up to receive email updates from AMP Kids