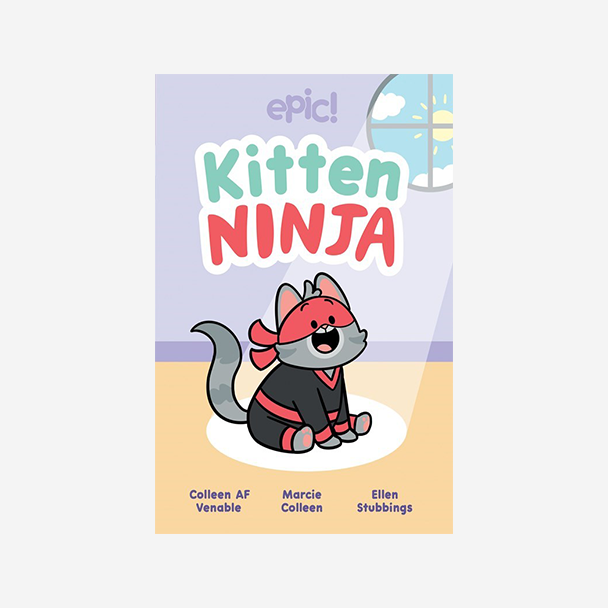 Kitten Ninja
By Colleen AF Venable, Marcie Colleen, Ellen Stubbings
Type: Paper Over Board
Publication Date: February 27, 2024
ISBN: 9781524888190
Fans of comics, and heartwarming stories—not to mention cats!—will love Kitten Ninja, the origin story of the incredible Cat Ninja!
Before Cat Ninja grew up and became Metro City's greatest defender, he was tiny, adorable Kitten Ninja and he battled…much tinier foes. (Hey, everybody has to start somewhere, right?)
In this spin-off prequel to the enormously popular Epic Original Cat Ninja series, our favorite feline hero takes on everything a kitten-size ninja has to battle on the way to his heroic destiny: a sun spot that won't stay put, an irresistible ball of yarn, and—every cat's archenemy—snow!
About The Author
Colleen AF Venable is the author of the National Book Award long-listed Kiss Number 8 and the indie bestseller Katie the Catsitter. Her other books include The Oboe Goes Boom Boom Boom, and the Guinea Pig, Pet Shop Private Eye series, which was nominated for the Best Publication for Kids Eisner Award.
Marcie Colleen is the author of numerous books for kids including: Penguinaut!, The Bear's Garden, Survivor Tree, and the Super Happy Party Bears chapter book series. She enjoys reading, running, watching baseball, and eating ice cream–although not all at the same time! Marcie lives in San Diego with her husband and a beloved herd of stuffed animals. Visit her at www.thisismarciecolleen.com.
Ellen Stubbings is an illustrator, comic artist and all round cute thing maker based in York, UK. She can generally be found in her little studio, illustrating children's books, painting or making pottery. Above all else she enjoys drawing animals and finds a lot of inspiration in her two cats, Figaro and Marmalade. Ellen usually works digitally, but she also loves breaking out her watercolor paints and color pencils.
want more reading activities for kids?
Sign up to receive email updates from AMP Kids
Alonzo Fuller
2023-10-06T16:47:53+00:00